Blown Stretch Wrap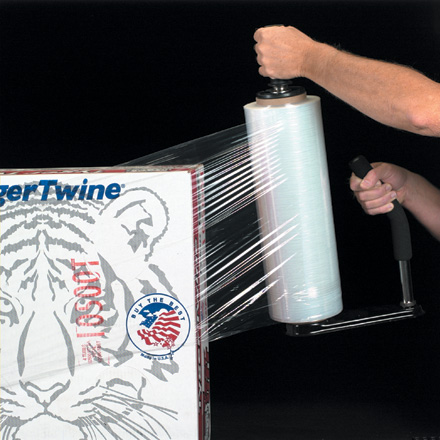 Blown Film.
Superior load holding strength.
Self-adhering & residue free when applied.
Clear/Non-Transparent quality—uniquely conceals package details.
Economical-unitizes multiple packages for shipments, stock or storage.
One side cling quality—guards shipments from locking together during transit.
Labor/performance efficient-applies faster and securer than twine, tape & strapping.
See more
One of the features of Blown Stretch Wrap that makes it different than that of cast or pre-stretch is its one-sided cling attribute. This feature is prominent in the area of pallet loads because when they are placed on the truck for delivery they don't adhere to any other pallet, making it accident free and non-strenuous when tow motor operators are unloading pallet loads. Many users like to conceal their packages from competitors also, and this feature is a low cost way of completing such a task. Similar to cast wrap, Blown Stretch Wrap is also available in various forms such as hand wrap, pallet wrap and machine wrap. Blown Stretch Wrap can be regarded as the strongest and most durable stretch wraps out of all the stretch wrap forms. One-side cling is a feature that allows for users to maintain normal wrapping procedures when manually applying wrap to a package or pallet, yet the difference lies in the fact that the exterior part of the wrap has no self-adhering capability. Due to that plus, companies save money when using Blown Stretch Wrap because they eliminate any risk from damage occurring during the shipment process, by relieving their liability in such instances. Another feature that is profitable regarding Blown Stretch Wrap is its low visibility attribute. This works well for companies or individuals who want to disclose their items, and even if it's clear blown wrap that they're using, it offers an opaque look when the package or load is applied. We at ShippingSuppliesByMail.Com is your ideal premier source for Blown Stretch Wrap products. Our goal is to equip you with the right gauge that will stabilize your packages during shipment and save you money. Whether you're a single user who wraps smaller packages or you're a purchaser for a company and you need a substantial amount at one time, we are your source for both bundling wrap and extended core style applications.